Sunday, January 29, 2006
Tuesday, January 24, 2006
Footprint from long ago...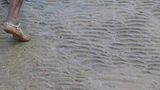 I shot this particular image a long while ago, in my first-ever tsunami trip. Some people laughed at it, but the poignancy of the moment the cracked heel of a woman against a sea-swept sand was too much for me to ignore.
P.S. I subsequently edited it differently, but I do not have the edited version online. This rough cut will have to do. :)
Sunday, January 15, 2006
Temple Tales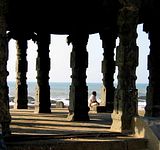 I think I will slowly build a collection of temple-related silhouettes. Not that I'm religious or anything, but rather fascinated by temples, especially old ones.
This one is the 'mandapam' right outside the Bhagavathi Amman Temple in Kanyakumari. I wish the man hadn't been sitting there! But that's what photography is about, I guess.